The University of Illinois at Urbana-Champaign and Illinois International Programs are pleased to announce the recipients of the 2017/18 International Achievement Awards. The International Achievement Awards recognize outstanding alumni, faculty, and students whose exceptional work, service, and/or scholarship has made a significant, global impact.
The recipients will be celebrated for their work at the annual International Achievement Awards Banquet on April 4, 2018 at the Alice Campbell Alumni Center in Urbana. The recipients will also participate in a panel discussion titled "Connecting Health & Service in a Global Context" on April 4, 2018 at 8:30 a.m. Breakfast will be provided. The panel is free and open to the public but a reservation is requested.
The 2017/18 International Achievement Award recipients are:
Jinwoo Cheon
Madhuri and Jagdish N. Sheth International Alumni Award for Exceptional Achievement

Benjamin J. Lough
Sheth Distinguished Faculty Award for International Achievement
Adam Brakhane
Charles C. Stewart International Young Humanitarian Award
Richard Oliver Bido-Medina
Illinois International Graduate Achievement Award
Naomi Kainuma
Illinois International Undergraduate Achievement Award
---

Recipient Biographies
Madhuri and Jagdish N. Sheth International Alumni Award for Exceptional Achievement Recipient
Jinwoo Cheon

Established in 2000, the Madhuri and Jagdish N. Sheth International Alumni Award for Exceptional Achievement is awarded annually to a distinguished international Illinois alum who has helped to better their own nation or the world through their contributions to government, humanity, science, art or human welfare. Dr. Jinwoo Cheon is the founding director of the IBS Center for NanoMedicine and the Horace G. Underwood Professor of Chemistry at Yonsei University. Dr. Cheon received his Ph.D. in the University of Illinois' Department of Chemistry in 1993. His doctoral research focused on the design of organometallic precursors for materials such as ceramics, metals, and semiconductors.
Early in his career, Dr. Cheon's research centered on magnetic nanoparticles and control of nanoparticle geometry. Since joining Yonsei University, he has aspired to advance medical research through nanochemistry and nanotechnology.  His research on nanoscale phenomena has led to a variety of medical and biological applications, including highly sensitive MRI contrast agents for disease diagnosis and nanoscale toolkits to control programmed cell growth and death. These discoveries open new possibilities for disease diagnosis and the development of therapeutics.
Numerous organizations have recognized his contributions in the advancement of chemistry, nanoscience and nanomedicine with awards including the Ho-Am Prize (2015), KCS Academic Achievement Award (2013), POSCO ChungAm Prize (2012), and Inchon Prize (2010). In 2012, DongA Daily News named Dr. Cheon as one of "Korea's 100 Most Influential Persons for Next 10 Years".  Internationally, he was acknowledged as one of the "World's Most Influential Scientific Minds" by Reuters (2014). Currently, Dr. Cheon serves as a Fellow of the Korean Academy of Science and Technology, Royal Society of Chemistry, and American Chemical Society. He is a senior editor of Accounts of Chemical Research and a member of the Editorial Advisory Boards of multiple chemistry journals.
Sheth Distinguished Faculty Award for International Achievement Recipient

Benjamin J. Lough

The Sheth Distinguished Faculty Award for International Achievement is presented to an Illinois faculty member with profound international accomplishments in teaching, research and public service. Dr. Benjamin Lough is an Associate Professor at the School of Social Work, University of Illinois at Urbana-Champaign and Faculty Director of International Service at the Center for Social Development, Washington University in St. Louis. He also works as Senior Research Associate for the Center for Social Development in Africa, University of Johannesburg, and Senior Researcher for the United Nations Volunteers (UNV) program. He is Quantitative Research Director of Campus Compacts' Global SL, Associate Editor of Voluntaristics Review, serves on the Board of the Building Bridges Coalition, and co-leads the tripartite Global Research Agenda on Volunteering for Peace and Development in partnership with the UNV programme. He is also lead author of the 2018 United Nations State of the Worlds Volunteerism Report. Dr. Lough's research interests include: volunteering, civic engagement, community development, and non-profit management. Prior to beginning his work at the University of Illinois, Dr. Lough was an independent consultant with the Department of Human and Social Services of American Samoa and the Foundation for International and Community Assistance in Armenia and the Republic of Georgia. In addition to considerable research and teaching experience, Dr. Lough worked for two years as a clinical social worker. He earned his BS in Sociology in 2000 and his MSW in 2003 from Brigham Young University, and his PhD in 2010 from the George Warren Brown School of Social Work at Washington University in St. Louis.

Charles C. Stewart International Young Humanitarian Award Recipient
Adam Brakhane

The Charles C. Stewart International Young Humanitarian Award recognizes the accomplishments of an Illinois graduate whose dedicated international service exemplifies the highest ideals of selflessness and dedication to the welfare of communities outside of the United States. Adam Brakhane completed his Bachelor's in Computer Engineering in 2014. Just before his Junior year, a new engineering class was introduced: Honduras Water Project. He joined on a whim and was quickly introduced to the idea of holistic engineering design that incorporates the social, cultural and technical implementations of a project.
While visiting Honduras for the class project survey trip, he connected with other long-term volunteers from International Rural Water Association (IRWA) and Agua y Desarrollo Comunitario (ADEC). These relationships would become invaluable over the following years, as he continued to come back to Honduras. With his computer engineering background, he created pressure monitoring devices that could be placed around communities to better monitor and improve water systems. Adam continues to work with these organizations, providing technical assistance and analytics.
In 2017, Adam and several other past students from the Honduras Water Project class decided to take their passion for holistic design of water projects and create Akelos, a 501(c)3 nonprofit. Akelos partners with nonprofits around the world to provide resources they may be lacking: the ability to work with local NGOs, engineering design, administration, community health, grant experience, and more.
Adam currently works at Tovala, a food-tech startup in Chicago, where he serves as Director of Software Engineering.

Illinois International Graduate Achievement Award Recipient
Richard Oliver Bido-Medina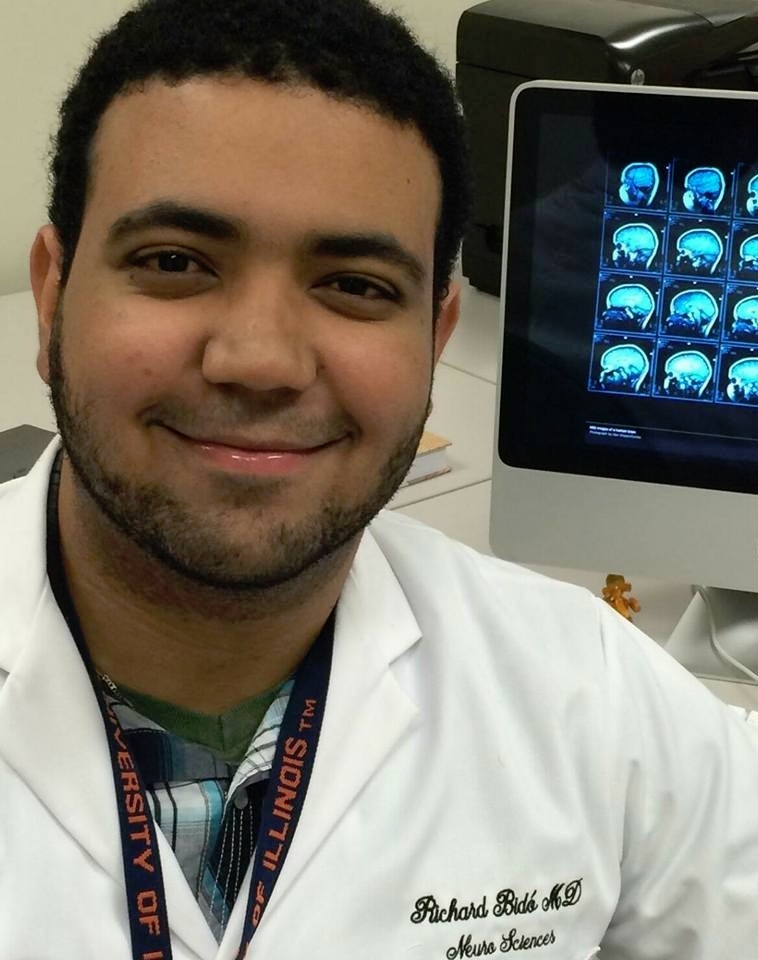 The Illinois International Graduate Achievement Award recognizes an Illinois graduate student whose innovative and sustained international research or public service abroad has had the greatest impact (or has the greatest potential impact) on the university, larger community or internationally. Richard was born in Villa Tapia, Hermanas Mirabal; the smallest province of the Dominican Republic, mostly devoted to agriculture. He finished High School at the age of 14 years old, and received his M.D. degree, from Universidad Autonoma de Santo Domingo, at age 21. As a child, Richard expressed deep interest in pursuing a career in the sciences; unfortunately, there was not any PhD program in the Dominican Republic but, in 2014, he became the recipient of the US Fulbright Scholarship and joined the Neuroscience Program at Illinois. Immediately, he started developing training and research projects in the Dominical Republic, being the most representative: the first longitudinal case-control neuroimaging study with Zika virus-infected patients with severe neurological complications and a collaborative project that involves psychiatric populations suffering from Major Depression. In 2017, he received the Neuroscience Outstanding Service Award.
Richard has proven that it is possible to combine multiple interests to contribute to the development of society. He faced many typical challenges of developing countries, but his enthusiasm, perseverance and hard work made him able to succeed, becoming a physician, diplomat and neuroscientist. As a physician, he has worked for underserved communities in his home country. As a diplomat, he was elected as the Youth Delegate of the Dominican Republic to the United Nations General Assembly. And as a scientist, his initiatives are not only contributing to the closing of the scientific gap between developed and developing countries, but also promoting a collaborative environment between the United States and the Dominican Republic.

Illinois International Undergraduate Achievement Award Recipient
Naomi Kainuma

The Illinois International Undergraduate Achievement Award recognizes an Illinois undergraduate student for a significant service or contribution resulting from participation in an international study course, program or project. Naomi Kainuma is a Political Science major at the University of Illinois Urbana-Champaign who also minors in French and Psychology. Naomi was born and raised in Tokyo, Japan and moved to Illinois for university. With an interest in working for the United Nations that dates back to middle school, she focuses on International Relations within her major. In her freshman year, she took LAS199 (now known as LAS100), which is a course that helps international students adapt to the American higher education system, and became an intern for the same class the following year. Her work with this course involved recruitment and course planning for spring semester, and assisting the TA for fall semester. In her junior year, she became a facilitator for the same class and led a class of 13 international students for two hours every week. In addition, she joined her TA's research project and contributed to the community auto-ethnography. Following from her work on this project, she presented at the Comparative and International Education Society Conference of 2015 and 2017. In addition to her participation in LAS199, she works for the Women's Resources Center as a First Year Campus Acquaintance Rape Education facilitator and leads a two-hour discussion for freshman and transfer students every week. During spring semester 2017, she studied abroad in Paris through the Illinois Program in Paris, and studied at l'Institut Catholique for four months. After graduation, Naomi will be working for the Peace Corps in Indonesia as an English teacher/teacher trainer for 27 months.